Black Friday is only a few days away now and as the excitement and anticipation builds it is imperative that we all consider our own security on the Internet. The beauty of Black Friday shopping is that majority of purchases can be done online. As convenient and simple as online shopping may seem, it is important that you shop safely online.
How do I know an online store is secure?
Before entering any personal and identifiable information on a website, make sure it is secure. Below are some quick tips that you can use to establish whether a site is secure or indeed if it is not.
Check the SSL Certificate
Look at the URL of the website. If it begins with "https" instead of "http" it means the site is secured using an SSL certificate (the s stands for secure). SSL certificates secure all of your data as it is passed from your browser to the website's server. To get an SSL certificate, the company must go through a validation process.
There are a few different levels of validation companies ca apply for and some of them are easier to comply with than others.
The lowest level of validation, Domain Validation (DV), simply validates ownership of the domain and not the legitimacy of the organization requesting the certificate or your personal details. In other words, if you bought the domain "shopping.com" and requested a certificate for it, you would get the certificate because you can prove that you own the domain.
The highest level of validation, Extended Validation (EV), is the safest and most extensive. With Extended Validation the company requesting the certificate has to prove their identity as well as their legitimacy as a business. You can tell if a site has an EV certificate by looking at the address bar. See what it looks like in each browser when a website uses an EV certificate: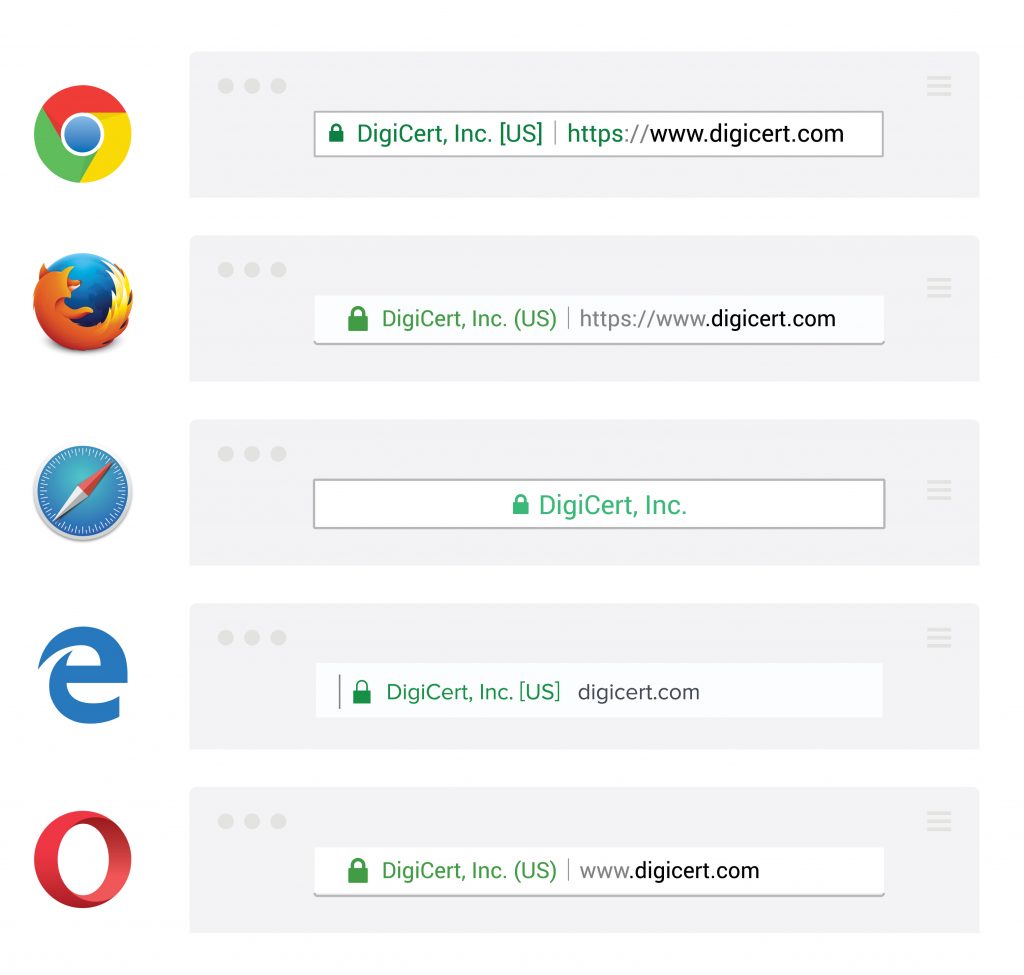 Look at the Domain
Cyber attackers will sometimes create websites that mimic existing websites and try to trick people into entering personal/financial information. This tactic is called phishing. These sites often look exactly like the real website.
Let's use the same example as before: a cyber attacker purchases the domain "shopping.com" and sets up a website at that location that looks exactly like the shopping.com website. They buy a DV certificate for their website and try to trick users (by using phishing emails or other methods) to purchase items or log into their accounts on the mimic "phishing" site.
To avoid these kinds of attacks, always look at the URL (domain name) of the site you are on. If you get an email from your bank or other online vendor, don't click the link in the email. Type the domain into your browser to make sure you are connecting to the valid, intended website.
Look for Signs that the Company Is Real
There are a few signs that you can look for to help you know if a company is real or not.
Physical address and phone number – If the company lists a physical address and phone number there is a higher chance that they are a real business. Reputable companies will list their information so you can contact them if there is a problem.
Return policy – Reputable sites should list their return policy as well as their shipping policy. If you can't find these policies on their site, you probably don't want to purchase from them.
Prices are too low to believe – It's great when you find a bargain, but you should be weary of sites that offer products for prices that are far lower than they should be. You could end up with knock-off merchandise, stolen goods, or not get anything at all.
Privacy statement – Reputable sites should tell you how they protect your information and whether they give your information to third parties. You should make sure a site has a privacy statement and read it before you make a purchase.
Website security Information Provided by Digicert.
Is there another way of purchasing online without my billing information?
A virtual card lets you pay online and on your favourite apps without ever having to take your card from your wallet or exposing your actual account information.
You can create a virtual card on your Standard Bank app, load money onto it and use it for whatever you need.
Like a physical card, it lets you pay online and via the app, but you never have to give your credit or debit card details.
Creating a virtual card is free, and it's flexible to your needs. Once you've created it, you can use it to shop online for whatever you want – both locally and internationally.
You also have the option to create and shop using store-only virtual cards at Standard Bank's online partners, such as Takealot, Uber, Travelstart, Zando and Admyt.
Some of the main benefits of a virtual card are
That you can decide how much money to load, as and when you need it.
Your money is available instantly, and you can top up or withdraw for once-off payments and ongoing transactions.
You also never have to worry about a lost, stolen or duplicated card either.
You can create or delete a virtual card at any time without stepping into a Standard Bank branch or filling out a form.
There's no application time; processing is quick, and you don't have to wait for your card to arrive.
Virtual Card information provided by Business Tech.